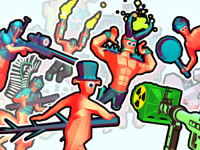 In Funny Shooter 2, the newest 3D first-person shooter game in Shooting games colletion, players have to use a variety of weaponry in their arsenal to take out spooky and amusing adversaries. Are you prepared to participate in Funny Shooter's second episode?
You will battle humorous enemies in waves in Funny Shooter 2's bizarre setting. Beautiful graphics show you interacting with up to 10 different sorts of weapons as you take on a variety of comical enemies.
Numerous foes
Phases of adversaries will appear, and nearly every level will have a brand-new, thrilling monster, boss, upgrade, or weapon. Regular redmen, toiletmen, giants, and other bizarre, lifelike creations might all be your adversaries. Use a variety of guns, grenades, and other explosive-loaded weapons that deal significant damage to these amusing targets.
Your weapons
You can choose from a wide variety of wild weapons, including rifles, RPGs, grenade launchers, handguns, bazookas, sniper rifles, shotguns, and even skins that let you modify them! To defeat the odd enemies that will swarm you, use a variety of weapons.
Advancing gameplay
The campaign mod in Funny Shooter 2 has a rising level of difficulty. Discovering new monster with occasionally fantastic and frequently catastrophic skills is possible at every level. You will also face a tough boss every ten levels! As you advance through the game, there are upgrades, achievements, and a store where you may purchase additional lethal weapons.
Weaponry shop
To earn extra money to speed up your advancement, be sure to finish the challenges and achievements. You can purchase a variety of weaponry in the market with the coins you earn while completing missions, and you can also develop your character. Purchase additional weapons, different attachments, and customizations by going to the shop. You have a lot of possibilities for creating a distinctive arsenal of weapons that reflects your personal taste.
Achievements and advancements
There are numerous milestones in Funny Shooter 2 that you can complete and earn cash for. Don't forget to improve your grenade impact, coin magnet, and healing talents. Obtaining insufficient gold? Get large gold payments by claiming your awards in the achievement screen to help pay for your upgrades and new weapons. The RPG and grenade launcher upgrades on the main screen might also help you go through your games more quickly.
Play Funny Shooter 2 right away to demonstrate your boss-killing prowess!
How To Play
You can improve your character's equipment and skills by earning gold coins as you go through Funny Shooter 2's levels. You must move forward and maintain a safe distance from any potential threats in the area if you don't want to get wounded. Additionally, the shop is where you can get your weaponry customized with a variety of extras, including optical sights, silencers, and more.
In Funny Shooter 2, defeating adversaries and earning game points are rewarded for accurate shooting. An adversary you defeat might drop a useful item. You deserve to be commended for your efforts. Your hero will find great use for these things in upcoming conflicts. The use of grenades, pitchforks, axes, chainsaws, and clubs is strictly discouraged; failure to do so will result in the loss of all of your accomplishments.
Tips and Tricks
You can create the appearance that the world is ending by firing nuclear missiles at your enemies. The best way to win the round is to eliminate all of your opponents with well-placed headshots.
To increase your chances of winning, collect more goods by hitting milestones and performing challenging activities. All nearby targets will be highlighted on a mini-map that will appear in the top-right corner of the screen.
Funny Shooter 2 Control
Mouse
Use

mouse

to

look around
Use your Left Mouse Button to shoot
Use your Right Mouse Button (Hold) to aim
Use your Mouse wheel to next/leading weapon
Key board
Press

W + Shift

to

run

Press

Space

to

jump

Use

WASD

keys to

move
1-7

is your

weapon hotkeys

Press

R

to

reload

Press

G

to

throw a grenade

Press

T

to

inspect the weapon

Press

E

to

remove weapon
Features
Effortless gameplay and fantastic 3D graphics

There are many strange enemies to shoot at and destroy

Purchase weapons and customizations at the shop

Meet milestones to earn gold awards
FAQs
Who is the creator of Funny Shooter 2?
The creator of Funny Shooter 2 is GoGoMan.
What time was Funny Shooter 2 released?
Funny Shooter 2 releases in August 2022.
Can I use my phone or computer to play Funny Shooter 2?
You can play Funny Shooter 2 via a web browser (desktop and mobile).
Is Funny Shooter 2 free to play?
You can play Funny Shooter 2 for free.
Related Games
If you love Funny Shooter 2 so much that you yearn for more, why don't you try the whole series of this game? The game Funny Shooter is the first title of Funny Shooter 2 so it definitely can satisfy you.
Are you looking for more Action games? If yes, don't miss our newest titles like 1v1 LOL, Time Shooter, Zombie Shooter 3D, The Last Man, Mine Shooter, etc. Play now and have fun!